This past weekend, I ran the Kirkwood Rotary Ramble 5K, and I set a personal record for my new running life in my 40s.  However, the race was still hard.  There were hills that proved my training route perhaps needed more challenge; the women I ran with seemed faster and stronger; the last half mile had me considering walking, which is something I have not done in years at a race.  Then, I crossed the finish line, and I felt that sense of accomplishment that only comes from pushing through some kind of challenge and making it out on the other side.  I signed up for my next race.  My running partner and I agreed to tack on another 1/2 mile to our route to continue to build our stamina.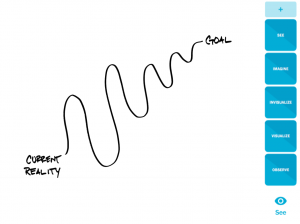 To get better at running, like any skill, I need to do it lots.  I need to keep stats, get feedback, reflect, and make plans to continue to get better.  Most of all, I need to run more.
Last week, I met with our middle school literacy specialists, a group of people who have one of the most challenging jobs I know: to help struggling readers push through their challenges and make it out on the other side.  Reading, like running, is a skill, and to get better at it, readers need to read lots.  They also need to keep stats, get feedback, reflect, and make plans to read more to get better.
But, how do we get even better at helping students grow?
Design Thinking Starts with Empathy & Play
W
hen we began talking about designing our professional learning together this year, we held students at the center of the conversation.  Referring to @laurasgt's Periodic Table of Play and Play Deck, we talked about seeing the world of school through students' eyes and understanding how they feel frightened, lack confidence, and often see themselves through the lens of a fixed mindset as poor readers.  Part of our learning together, then, must address new ways to build a sense of determination and confidence in our readers so each one of them leaves us ready to tackle the new challenges ahead.
Next, we built models of our current multi-tiered systems of support for students and considered how it feels to be students moving through these systems as a struggling readers.  Our choices of representations (Chutes and Ladders and a rollercoaster) speak volumes about the hurdles our struggling students face on a daily basis.
Problem-Finding & Questioning
We started wondering, if moving through the system can feel like a rollercoaster or a game of Chutes and Ladders, how do we best help students regain solid footing in their learning?  What are the best practices in holistic approaches to intervention?  We began defining our "problem" and started to pursue various lines of questioning and research, using RTI for Reading at the Secondary Level as a touchstone for our conversation:
How do we best grow joyful and confident readers?
How are we making every moment count in classrooms with our readers?  What is our model for Tier 1 instruction?  Tiers 2 and 3?  How do these align with best practices?
How do literacy specialists find time to meet with each other to research, to share thinking and successful practices, and to problem-solve?
How can connecting literacy specialists to grade level team meetings help grow all students as readers across content areas?
How does the timing of our class (90 minute block vs. 45 minute period) affect the structures and routines readers experience as part of their learning?  How does that look when we try to balance fidelity to an online program with best practices in literacy instruction through small group work and conferring?
Your Questions
What are you wondering about literacy interventions at the secondary level?  Join our conversation!