We often lament the lack of reading that happens at home over the summer for our students.  That summer slide can steal some of the gains students made in the previous year of instruction, and it leaves us feeling powerless.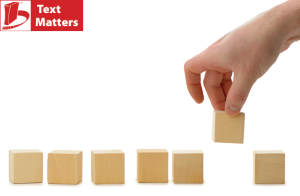 However, in a recent article, literacy expert Freddy Hiebert argues "In the typical classroom, students read less than 20% of the reading/language arts block. Even a little more time can go a long way. An additional 7 minutes of reading per day has been found to be the difference in classrooms where students read well from those where students did less well."
7 minutes feels powerful.  We can find 7 additional minutes hidden in our day for students to have their eyes on text, can't we?
But, it is not just having eyes on any text that counts.  As Calkins reminds us early on in the Reading Units of Study: "The single most important method for moving kids up levels of text complexity is to be sure they read up a storm at their current level" (Reading Units of Study, Grade 4, Unit 1).
Why do we assess?
Well, if you believe the research, which I do, students need to have their eyes on text for long stretches of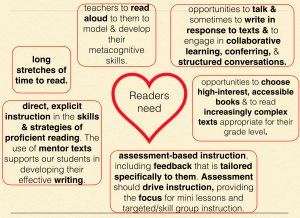 time.  And, they need to have their eyes on text they can read.  Text that doesn't prove to be too challenging or too simplistic.  A just-right text.
The best way to match readers to just-right texts is to know how they currently tackle the puzzles posed in complex texts. While we are in search of matching students to texts where they are successful instructionally and independently, often times the key to seeing where students' cueing systems and comprehension within, beyond, and about the text begin to falter is in identifying the "ceiling level" of text that exposes their areas of needed growth as a reader.
How do we assess?
One of the tools we use in Kirkwood to gather this key information is the Fountas and Pinnell Benchmark Assessment System in K-5.
According to Calkins, once we match students to texts where they are successful, we need to get them access to books–lots of them–to stop summer slide.  This is why she suggests completing our F &Ps in grades 1-5 in the first week or two of school.
*Gulp*
I know what you are thinking: We have larger class sizes.  The assessments take a long time to complete.  Sometimes we don't really know how to use the information we get from those assessments in the most efficient ways.
But, What If? 
What if we tweaked some of Calkins' suggestions on ways to streamline running records and were able to really know our readers in the first two weeks of school?  (See her tips embedded in your first UoS or Chapter 6 of her Guide to the Reading Workshop for Primary Grades.)
What if we started assessments with our most struggling readers and got them reading in texts matched to their levels as soon as we possibly could?
What if we viewed these assessments as part of learning and teaching and not separate from it?
What comes next?
Once we match students to texts at their level, they read, read, read.  Following Calkins' Units of Study for reading, she outlines mini-lessons that hone our instruction to key strategies and skills readers need to make sense of text, and she also highlights what struggles we might anticipate readers having so we can better prepare for small group work and conferring.  Hiebert offers additional suggestions with 7 Actions that Teachers Can Take Right Now to help tackle complex texts.