This week, I am learning with Andrea Jamison's 1st grade class as they tinker, explore, and write in Story Workshop.  Join us as we learn together!
At Keysor, they have been focused on a year-long theme of Quest, which stems from their learning around Laura Seargeant Richardson's Periodic Table of Play, and Andrea, like many of us, has been trying to reconcile the ideas of purposeful play and the reading/writing workshop.  She decided to revisit the Story Workshop model, which has 5 main components, described below.
Preparation
Andrea prepared the classroom for her students by selecting a mixture of materials that were familiar, dramatic, textured, and open-ended.  The environment was designed to be open, flexible, and responsive.  Students could not wait to begin experimenting with the materials.  A few boys built a house with a ramp to the attic; girls bent over pinecones and toilet paper rolls to create the perfect playground are for a child to hide from a bully; a boy in the corner mixed textures and Kappas to create a structure that had a role yet to be determined in his story.
Provocation
Next, Andrea artfully blended the idea of posing a question to provoke student thinking around stories with her mini-lesson topic.  She had been working with her students on understanding that stories have beginnings, middles, and ends, and now she was ready to dig in a little more deeply with characters and their problems.  She used the mentor text of Chrysanthemum by Kevin Henkes and asked her students to consider what Chrysanthemum's problem was in the story and how it looked at the beginning, middle, and end of the story.  She sent students off to begin thinking of their stories, the problems their characters might have, and how they might be resolved.
Story Invitation and Negotiation
Since Andrea's students were at the beginning of this unit of study, she next spent time inviting them to notice the different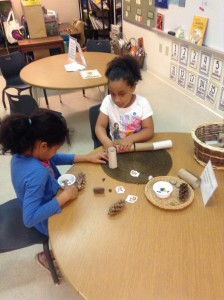 materials in the story and to decide which materials might help them find their stories.  As students thought about their thinking and which materials might best help them, they negotiated with Andrea.  They were asked to slow down, to reflect, and to consider new possibilities.  Andrea listened to her students and gave them her undivided attention in finding the materials to unearth their stories.
Story Creation
To the lay observer, it may have appeared students in Andrea's classroom were simply handling various materials.  However, listening to their conversations revealed a much richer experience.  Students explored the classroom, searching for their stories, awakening their memories, and connecting to other stories.  As the children played with the materials, they talked with one another about their characters, their settings, and how their characters were going to solve their problems.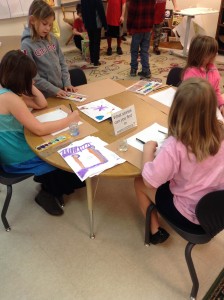 During this time, Andrea busily conferred with students, careful to provide her focused attention and specific questioning skills to help them find their stories, take risks in experimenting with them, and refine them as time goes on.  Her references to beginnings, middles, and ends of stories as well as the characters' problems kept the learning connected to the mini-lesson for the day.  That connection, combined with the flexibility of one-on-one conferring, met students where they were in their learning and offered opportunities to differentiate for students on the autism spectrum, students with advanced readiness, and students with different learning styles.
Story Congress
Andrea's students ended their workshop with a Story Congress.  During this time, students shared their stories, and both the teacher and their peers provided feedback.  The Congress plan comes from observations and conferences during story creation.  Today's authors brought to light the power of collaboration: authors co-writing chapter books, complete with characters who have problems and beginnings and middles to their stories, shared their work.  Their feedback was to consider where their story might end.  Another student offered his use of Notability for his writer's notebook.  He wanted to capture the materials he had engaged with as well as his writing, so he took pictures of the structure he created and added his own text in Notability.
Richardson believes that in a world filled with standardized tests, "it's critical to import the notion that play helps kids find their inner creativity and become curious and analytical beings."
How do you embed creativity and play in your classroom?
Stay tuned for more learning with Story Workshop!