I used to think Open House was a time for me to show parents of my students how rigorous my courses were.  I had printed syllabi, perfected PowerPoints, and dense texts stacked on my desk: evidence of how their children would be challenged over the course of the semester or year.  I had read Harry Wong, and I felt prepared.
Then, I attended my first Open House as a parent.
Sitting in the small desk of my kindergartner, I realized I was nervous. This teacher was spending more daylight hours with my child during the week than I was, and, while I hoped she would challenge my son, I was more concerned about her keeping his love of learning alive.
Was she kind?  Did she love learning?  Would she go out of her way to learn about my son, his penchant for Legos, his inability to sit for long times, his love of stories?  Would she use that knowledge to craft lessons and to instill in my son a desire to attend school and continue learning?  Would she treat me as a partner or a nuisance?
While these questions might seem particular to the parent of a kindergartner, I find that with each passing year and each additional child's Open House night, I still ponder them as I sit in my children's chairs.  My theory is parents of high school seniors do, too.
As a teacher, my Open House talk changed in response to these lingering questions.  I talked less and showed more.  I pointed to my walls, adorned with student writing and artwork.  I gave parents letters from their children, where they reflected on the highlights and struggles of their first few weeks of school.  And, yes, I still spoke of rigor, but with an intentional focus on how their children were responding to the rigor and how I hoped we could work together to support them in their learning.  I showed them I wanted to be their child's champion, just as I wanted my sons' and daughter's teachers to be their champions as well.  Rita Pierson's Ted Talk from KHS' Opening Day captures a similar sentiment.
After all, we are all in this together: parents, students, teachers, and the community.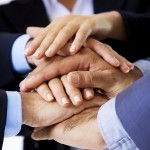 Relationships.  It's not just one of the words on our district t-shirts; it's what sets us apart from other districts.  It's why our school mantra is every student, every day.  It's why students transferring from other districts become Pioneers as soon as they set foot on campus.  We've spent the past few weeks nurturing relationships with students, so they don't see our school as Malcolm London describes the front lines of his.
Open House is our opportunity to foster relationships with parents.
What does Open House look like in your classroom?  How has it changed over the years or how might it change this year?